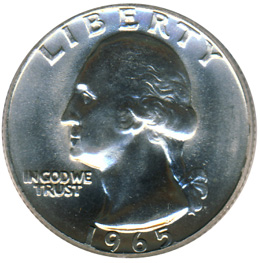 Washington Quarters were struck between the years of 1932 and 1998. The mintages were relatively high throughout the series, with only two issues having a mintage of less than one million pieces. In later years of the series, production levels spiraled into the hundreds of millions with a few issues having more than one billion pieces struck.
The lowest mintage coin of the series is the key date 1932-S Washington Quarter at 408,000 pieces. At certain grade levels, the 1932-D with a mintage of 436,800 pieces is more scarce. The highest production for a single issue occurs for the 1965 Washington Quarter at 1,819,717,540.
Throughout the series, coins have been struck at the Philadelphia, Denver and San Francisco Mints. For the initial portion of the series, the mint mark can be found on the reverse of the coin under the eagle. In 1968 the mark was moved to the obverse of the coin, to the right of Washington's bust. Coins from Denver carry the "D" mint mark, and coins from San Francisco carry the "S' mint mark. Since 1980, coins minted at the Philadelphia Mint have a "P" as mintmark. Earlier Philadelphia issues did not include a mint mark.
The table below displays the mintage figures for circulation strike Washington Quarters minted from 1932 to 1998 for each date and mint mark combination.
Washington Quarter Mintages
| Issue | Mintage |
| --- | --- |
| 1932 | 5,404,000 |
| 1932-D | 436,800 |
| 1932-S | 408,000 |
| 1934 | 31,912,052 |
| 1934-D | 3,527,200 |
| 1935 | 32,484,000 |
| 1935-D | 5,780,000 |
| 1935-S | 5,660,000 |
| 1936 | 41,300,000 |
| 1936-D | 5,374,000 |
| 1936-S | 3,828,000 |
| 1937 | 19,696,000 |
| 1937-D | 7,189,600 |
| 1937-S | 1,652,000 |
| 1938 | 9,472,000 |
| 1938-S | 2,832,000 |
| 1939 | 33,540,000 |
| 1939-D | 7,092,000 |
| 1939-S | 2,628,000 |
| 1940 | 35,704,000 |
| 1940-D | 2,797,600 |
| 1940-S | 8,244,000 |
| 1941 | 79,032,000 |
| 1941-D | 16,714,800 |
| 1941-S | 16,080,000 |
| 1942 | 102,096,000 |
| 1942-D | 17,487,200 |
| 1942-S | 19,384,000 |
| 1943 | 99,700,000 |
| 1943-D | 16,095,600 |
| 1943-S | 21,700,000 |
| 1944 | 104,956,000 |
| 1944-D | 14,600,800 |
| 1944-S | 12,560,000 |
| 1945 | 74,372,000 |
| 1945-D | 12,341,600 |
| 1945-S | 17,004,001 |
| 1946 | 53,436,000 |
| Issue | Mintage |
| --- | --- |
| 1946-D | 9,072,800 |
| 1946-S | 4,204,000 |
| 1947 | 22,556,000 |
| 1947-D | 15,388,000 |
| 1947-S | 5,532,000 |
| 1948 | 35,196,000 |
| 1948-D | 16,766,800 |
| 1948-S | 15,960,000 |
| 1949 | 9,312,000 |
| 1949-D | 10,068,400 |
| 1950 | 24,920,126 |
| 1950-D | 21,075,600 |
| 1950-S | 10,284,004 |
| 1951 | 43,448,102 |
| 1951-D | 35,354,800 |
| 1951-S | 9,048,000 |
| 1952 | 38,780,093 |
| 1952-D | 49,795,200 |
| 1952-S | 13,707,800 |
| 1953 | 18,536,120 |
| 1953-D | 56,112,400 |
| 1953-S | 14,016,000 |
| 1954 | 54,412,203 |
| 1954-D | 42,305,500 |
| 1954-S | 11,834,722 |
| 1955 | 18,180,181 |
| 1955-D | 3,182,400 |
| 1956 | 44,144,000 |
| 1956-D | 32,334,500 |
| 1957 | 46,532,000 |
| 1957-D | 77,924,160 |
| 1958 | 6,360,000 |
| 1958-D | 78,124,900 |
| 1959 | 24,384,000 |
| 1959-D | 62,054,232 |
| 1960 | 29,164,000 |
| 1960-D | 63,000,324 |
| 1961 | 37,036,000 |
| 1961-D | 83,656,928 |
| 1962 | 36,156,000 |
| 1962-D | 127,554,756 |
| 1963 | 74,316,000 |
| 1963-D | 135,288,184 |
| 1964 | 560,390,585 |
| 1964-D | 704,135,528 |
| 1965 | 1,819,717,540 |
| 1966 | 821,101,500 |
| 1967 | 1,524,031,848 |
| 1968 | 220,731,500 |
| 1968-D | 101,534,000 |
| 1969 | 176,212,000 |
| 1969-D | 114,372,000 |
| 1970 | 136,420,000 |
| Issue | Mintage |
| --- | --- |
| 1970-D | 417,341,364 |
| 1971 | 109,284,000 |
| 1971-D | 258,634,428 |
| 1972 | 215,048,000 |
| 1972-D | 311,067,732 |
| 1973 | 346,924,000 |
| 1973-D | 232,977,400 |
| 1974 | 801,456,000 |
| 1974-D | 353,160,300 |
| 1776-1976 | 809,784,016 |
| 1776-1976-D | 860,118,839 |
| 1976-S | 7,000,000 |
| 1977 | 468,556,000 |
| 1977-D | 256,524,978 |
| 1978 | 521,452,000 |
| 1978-D | 287,373,152 |
| 1979 | 518,708,000 |
| 1979-D | 489,789,780 |
| 1980-P | 635,832,000 |
| 1980-D | 518,327,487 |
| 1981-P | 601,716,000 |
| 1981-D | 575,722,833 |
| 1982-P | 500,931,000 |
| 1982-D | 480,042,788 |
| 1983-P | 673,535,000 |
| 1983-D | 617,806,446 |
| 1984-P | 676,545,000 |
| 1984-D | 546,483,064 |
| 1985-P | 775,818,962 |
| 1985-D | 519,962,888 |
| 1986-P | 551,199,333 |
| 1986-D | 504,298,660 |
| 1987-P | 582,499,481 |
| 1987-D | 655,594,696 |
| 1988-P | 562,052,000 |
| 1988-D | 596,810,688 |
| 1989-P | 512,868,000 |
| 1989-D | 896,535,597 |
| 1990-P | 613,792,000 |
| 1990-D | 927,638,181 |
| 1991-P | 570,968,000 |
| 1991-D | 630,966,693 |
| 1992-P | 384,764,000 |
| 1992-D | 389,777,107 |
| 1993-P | 639,276,000 |
| 1993-D | 645,476,128 |
| 1994-P | 825,600,000 |
| 1994-D | 880,034,110 |
| 1995-P | 1,004,336,000 |
| 1995-D | 1,103,216,000 |
| 1996-P | 925,040,000 |
| 1996-D | 906,868,000 |
| 1997-P | 595,740,000 |
| 1997-D | 599,680,000 |
| 1998-P | 896,268,000 |
| 1998-D | 821,000,000 |