The first Proof Washington Quarters (Buy on eBay) were struck from 1936 to 1942 at the Philadelphia Mint. During this era, proof coins were sold to collectors individually or as a complete set containing one example of each denomination. The mintage levels for these years were considerably lower than the proof issues which would later follow, with the lowest mintage of 3,827 recorded for the 1936 Proof Washington Quarter.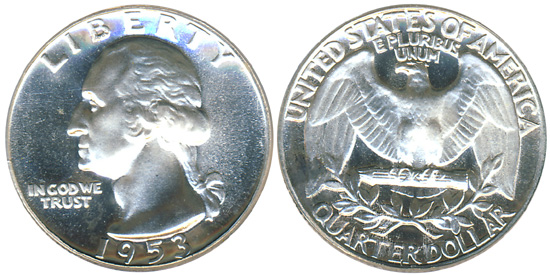 The next era of proof coin production would take place from 1950 to 1964. These proof coins were struck at the Philadelphia Mint and only offered as complete sets. The coins were first packaged in cellophane flips within cardboard boxes, and later within flat packs placed in envelopes. Mintage levels began at 51,386 for 1950, but rose into the millions as the popularity of the format increased. Proof coinage was not issued from 1965 to 1967, however special mint sets were produced containing coins with proof-like qualities.
From 1968 through the conclusion of the series in 1998, proof coins have been struck at the San Francisco Mint and sold to collectors within packaged sets. For each year during this period, the proofs have been struck in the copper-nickel clad composition. For certain numismatic products, the proofs have also been struck in silver-based compositions. In 1976, proof coins were struck in 40% silver and offered within Bicentennial Sets. From 1992 to 1998, proof coins were struck in 90% silver and offered within the annual Silver Proof Sets.
Proof Washington Quarter Mintages
| | |
| --- | --- |
| 1936 | 3,837 |
| 1937 | 5,542 |
| 1938 | 8,045 |
| 1939 | 8,795 |
| 1940 | 11,246 |
| 1941 | 15,287 |
| 1942 | 21,123 |
| 1950 | 51,386 |
| 1951 | 57,500 |
| 1952 | 81,980 |
| 1953 | 128,800 |
| 1954 | 233,300 |
| 1955 | 378,200 |
| 1956 | 669,384 |
| 1957 | 1,247,952 |
| 1958 | 875,652 |
| 1959 | 1,149,291 |
| 1960 | 1,691,602 |
| 1961 | 3,028,244 |
| 1962 | 3,218,019 |
| 1963 | 3,075,645 |
| 1964 | 3,950,762 |
| 1968-S | 3,041,506 |
| 1969-S | 2,934,631 |
| 1970-S | 2,632,810 |
| 1971-S | 3,220,733 |
| 1972-S | 3,260,996 |
| | |
| --- | --- |
| 1973-S | 2,760,339 |
| 1974-S | 2,612,568 |
| 1776-1976-S | 7,059,099 |
| 1776-1976-S Silver | 4,000,000 |
| 1977-S | 3,251,152 |
| 1978-S | 3,127,781 |
| 1979-S | 3,677,175 |
| 1980-S | 3,554,806 |
| 1981-S | 4,063,083 |
| 1982-S | 3,857,479 |
| 1983-S | 3,279,126 |
| 1984-S | 3,065,110 |
| 1985-S | 3,362,821 |
| 1986-S | 3,010,497 |
| 1987-S | 4,227,728 |
| 1988-S | 3,262,948 |
| 1989-S | 3,220,194 |
| 1990-S | 3,299,559 |
| 1991-S | 2,867,787 |
| 1992-S | 2,858,981 |
| 1992-S Silver | 1,317,579 |
| 1993-S | 2,633,439 |
| 1993-S Silver | 761,353 |
| 1994-S | 2,484,594 |
| 1994-S Silver | 785,329 |
| 1995-S | 2,117,496 |
| 1995-S Silver | 679,985 |
| 1996-S | 1,750,244 |
| 1996-S Silver | 775,021 |
| 1997-S | 2,055,000 |
| 1997-S Silver | 741,678 |
| 1998-S | 2,086,507 |
| 1998-S Silver | 878,792 |