Under the Coinage Act of 1965, the silver content was eliminated from the dime and quarter dollar and reduced for the half dollar. As such, the 1964 Washington Quarter (Buy on eBay) represents an important issue from a historical standpoint as the last issue of the denomination struck for circulation in the composition of 90% silver and 10% copper. Starting with the 1965-dated coins, the composition was changed to 91.67% copper and 8.33% nickel, although the silver composition would be revived in later years for some special numismatic issues.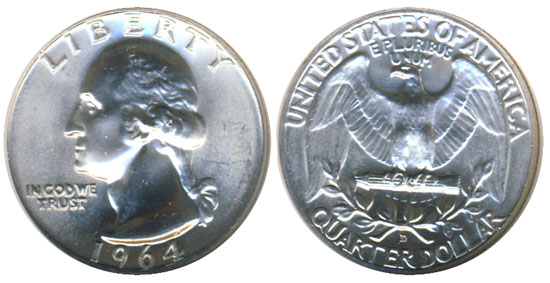 The 1964 quarter is extremely common with a mintage of 560,390,585 pieces at the Philadelphia Mint and 704,135,528 at the Denver Mint. Circulated and even lower level uncirculated coins typically change hands based on the intrinsic value of the coins. Each quarter will contain 0.18084 troy ounces of silver.
Registry set collectors pursue certified examples of this coin graded MS66 or higher. Examples graded MS67 by PCGS or NGC may command prices upwards of a thousand dollars depending on the quality and eye appeal of a particular example.
This year, the Philadelphia Mint also struck Proof 1964 Washington Quarters for inclusion within the annual proof set. The total distribution was 3,950,762. This proof issue is very common, although premiums are attached to examples displaying cameo or deep cameo contrast.

Coin Specifications
Designer: John Flanagan
Composition: 90% Silver, 10% Copper
Weight: 6.25 grams
Diameter: 24.3 mm
Edge: Reeded