The 1936 Proof Washington Quarter (Buy on eBay) was the first issue of the series struck in proof format. It has the lowest mintage for a proof coin of the series at 3,837 pieces. This also marks the lowest mintage for any regularly issued proof coin in the modern era.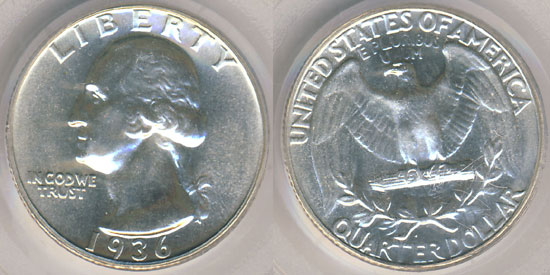 After a gap of twenty years, the United States Mint had resumed the production of proof coinage at the Philadelphia Mint. Proof versions of each of the denominations issued for circulation were offered to collectors, either individually or as part of a complete set. The proof quarters were priced at 50 cents for individual sale or $1.89 as part of the five coin set.
Originally, the 1936 Proof Quarters were issued in a cellophane sleeve, by itself or stapled to sleeves containing the other coins ordered. Coins retained in the original packaging usually exhibit hazy toning, sometimes imbued with coloration from long term contact with the cellophane. More commonly, proof coins of this era were removed from the packaging and stored by other various methods, sometimes resulting in hairlines or slide marks from mishandling. In modern times, many of these early proof coins have been dipped to remove cloudy or unattractive toning. Some collectors prefer these brilliant examples, while others prefer a more natural appearance.
The grading firms PCGS and NGC have certified around 900 examples in grades PR65 and higher, which likely includes a number of resubmissions. The finest pieces are about 50 pieces graded PR67. Prices for PR65 certified examples are $600 and upwards depending on quality within the grade. Examples graded PR67 have sold for prices ranging from around $4,000 to $6,000, depending on quality.

Coin Specifications
Designer: John Flanagan
Composition: 90% Silver, 10% Copper
Weight: 6.25 grams
Diameter: 24.3 mm
Edge: Reeded