The 1932-D Washington Quarter (Buy on eBay) was the first year of issue for the series struck at the Denver Mint. With a mintage of just 436,800 pieces, this coin represents one of the two key date coins of the series. While the other key date, produced during the same year at the San Francisco Mint, has a slightly lower mintage, the 1932-D is the scarcer of the two coins at grade levels above Fine.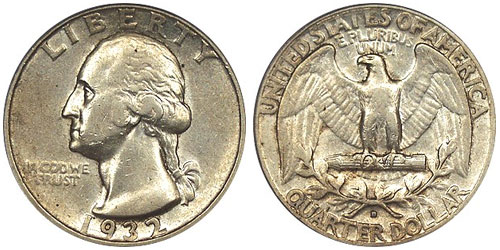 Well circulated examples of the 1932-D quarter can usually be acquired for around $100. In the lowest uncirculated grades, the cost increases to $1,000 or more. The issue becomes exceedingly rare in gem due to the prevalence of striking weakness and contact marks. The major grading services PCGS and NGC have certified around 120 examples graded MS65, which likely includes numerous resubmissions.
Two examples of the 1932-D Washington Quarter share the finest grade of MS66. One of these examples realized a price of $89,125 at auction in 2001 and subsequently sold for $143,750 in 2008. The other example last sold for $82,250 in 2015.
Coin Specifications
Designer: John Flanagan
Composition: 90% Silver, 10% Copper
Weight: 6.25 grams
Diameter: 24.3 mm
Edge: Reeded