The origins of the Washington Quarter begin with the competition announced in 1930 to create a design for a medal and commemorative half dollar to celebrate the bicentennial of Washington's birth. The winner of the contest was was sculptor Laura Gardin Fraser, who had previously designed the distinctive commemorative Oregon Trail Half Dollar, first struck in 1926. She was the wife of James Earle Fraser who had designed the Buffalo Nickel, introduced in 1913.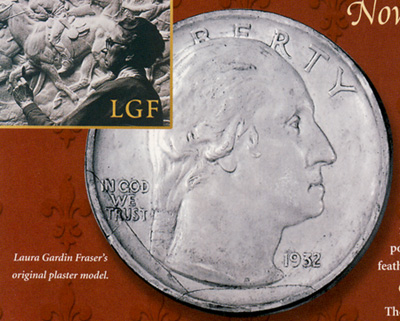 On March 4, 1931, plans were altered and Congress decided to issue a circulating Washington Quarter, rather than a commemorative half dollar. A bicentennial committee, the Commission of Fine Arts (CFA), and the Treasury reviewed and eliminated more than 100 different models submitted by 98 sculptors during a second competition. Ultimately, they favored another design prepared by Laura Gardin Fraser. However, the Secretary of the Treasury Andrew Mellon favored a design by John Flanagan.
In the words of Walter Breen, Andrew Mellon was "one of the world's wealthiest men and reputedly one of the stubbornest." Researchers have now learned that Mellon knew the model selected by the committees was prepared by Laura Gardin Fraser and refused that a women would design the new quarter. When Mellon was succeeded by Ogden L. Mills, the CFA urged him to select Fraser's design. It was to no avail and the Flanagan design was chosen instead.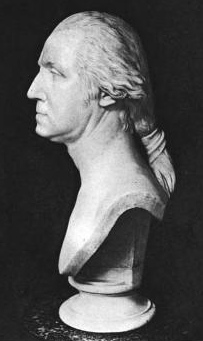 As per the competition rules, the obverse of the Washington Quarter featured a bust of George Washington based on Houdon's 1785 bust, displayed at Mount Vernon. Washington is facing left, with the word "Liberty" above. The motto "In God We Trust" is to the left and the date below. The designer's initials "JF" can be found on the base of Washington's neck. The reverse of the quarter features a stylistic bald eagle looking to the left and grasping a bundle of arrows with olive branches beneath. Above the eagle is "United States of America" and "E Pluribus Unum", with the denomination indicated as "Quarter Dollar" below.
Minor modifications were made throughout the decades to strengthen the design. A different reverse design was used for coins dated 1976 to celebrate the Bicentennial of the United States. In 1999, the obverse design underwent a modernization performed by William Cousins, whose initials were added on the base of Washington's bust, next to Flanagan's. This modified design was used on the obverse of the quarter from 1999 to 2009 for the State Quarters and DC & US Territories Quarters Programs. From 2010, Flanagan's original portrait was restored for use on the America the Beautiful Quarters Program.