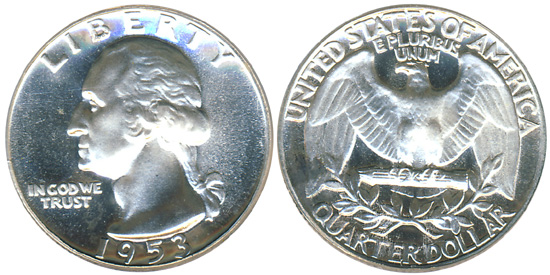 Proof Washington Quarters were first struck from 1936 to 1942 at the Philadelphia Mint. These early proof coins were sold individually or as a complete set containing one example of each denomination. The mintages for these years were considerably lower than proof issues which would later follow, with the lowest mintage of 3,837 recorded for the 1936 Proof Washington Quarter.
The Philadelphia Mint resumed production of proof coins in 1950, this time only offering the coins in complete sets. These were first packaged in cellophane flips within cardboard boxes, and later in flat packs within envelopes. Proof Washington Quarters from 1950 to 1964 were minted in higher numbers and are commonly found for most dates. Proof coins exhibiting cameo or deep cameo contrast are less frequently encountered and scarce for some dates and will command significant premiums above examples with fully brilliant surfaces.
From 1968 to present, proof coins have been minted at the San Francisco Mint with the "S" mint mark and sold to collectors in packaged sets. The coins were struck in the new composition of 91.67% copper and 8.33% nickel. Starting in 1992, the United States Mint also offered a 90% silver version of the proof set. These modern silver proof coins have all experienced lower mintages than their clad composition counterparts. With only a few exceptions, modern era proof Washington Quarters are readily obtainable, although competition exists for the highest PCGS and NGC graded examples.


Proof Washington Quarter Mintages
| | |
| --- | --- |
| 1936 | 3,837 |
| 1937 | 5,542 |
| 1938 | 8,045 |
| 1939 | 8,795 |
| 1940 | 11,246 |
| 1941 | 15,287 |
| 1942 | 21,123 |
| 1950 | 51,386 |
| 1951 | 57,500 |
| 1952 | 81,980 |
| 1953 | 128,800 |
| 1954 | 233,300 |
| 1955 | 378,200 |
| 1956 | 669,384 |
| 1957 | 1,247,952 |
| 1958 | 875,652 |
| 1959 | 1,149,291 |
| 1960 | 1,691,602 |
| 1961 | 3,028,244 |
| 1962 | 3,218,019 |
| 1963 | 3,075,645 |
| 1964 | 3,950,762 |
| 1968-S | 3,041,506 |
| 1969-S | 2,934,631 |
| 1970-S | 2,632,810 |
| 1971-S | 3,220,733 |
| 1972-S | 3,260,996 |
| 1973-S | 2,760,339 |
| 1974-S | 2,612,568 |
| 1776-1976-S | 7,059,099 |
| 1776-1976-S Silver | 4,000,000 |
| 1977-S | 3,251,152 |
| 1978-S | 3,127,781 |
| 1979-S | 3,677,175 |
| 1980-S | 3,554,806 |
| 1981-S | 4,063,083 |
| 1982-S | 3,857,479 |
| 1983-S | 3,279,126 |
| 1984-S | 3,065,110 |
| 1985-S | 3,362,821 |
| 1986-S | 3,010,497 |
| 1987-S | 4,227,728 |
| 1988-S | 3,262,948 |
| 1989-S | 3,220,194 |
| 1990-S | 3,299,559 |
| 1991-S | 2,867,787 |
| 1992-S | 2,858,981 |
| 1992-S Silver | 1,317,579 |
| 1993-S | 2,633,439 |
| 1993-S Silver | 761,353 |
| 1994-S | 2,484,594 |
| 1994-S Silver | 785,329 |
| 1995-S | 2,117,496 |
| 1995-S Silver | 679,985 |
| 1996-S | 1,750,244 |
| 1996-S Silver | 775,021 |
| 1997-S | 2,055,000 |
| 1997-S Silver | 741,678 |
| 1998-S | 2,086,507 |
| 1998-S Silver | 878,792 |