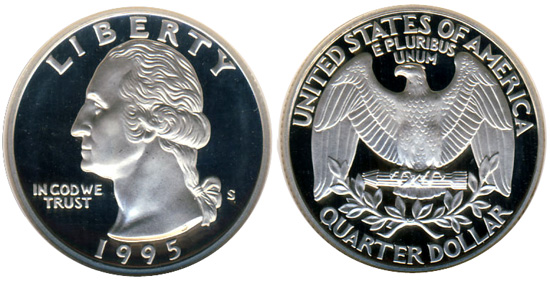 From 1932 to 1964, the Washington Quarters were struck on regular silver planchets, from specifications last changed in 1873. The quarters had a composition of 90% silver and 10% copper with a standard weight of 6.25 grams (96 grains). The coins had a diameter of 24.3 mm and a reeded edge.
In 1965, a new composition was introduced which consisted of an inner core of pure copper with an outer layer of 75% copper and 25% nickel. The overall composition was 91.67% copper and 8.33% nickel. These pieces weigh 5.67 grams (87.5 grains) with the same 24.3 mm diameter. The specifications remained in use for circulation strikes through the end of the series. Certain numismatic issues have had different specifications.
In 1976, silver clad coins were issued in three-coin proof or uncirculated bicentennial sets. These coins had an inner core of 20.9% silver and 79.1% copper, with an outer layer of 80% silver and 20% copper, yielding a net composition of 40% silver and 60% copper. From 1992 to 1998, silver proof coins were issued in the annual Silver Proof Set. These coins have the same composition as the original 1932-1964 Washington Quarters.
Silver Washington Quarters
Dates: 1932-1964
Composition: 90% silver, 10% copper
Weight: 6.25 grams
Diameter: 24.3 mm
Clad Washington Quarters
Dates: 1965-1998
Composition: 91.67% copper, 8.33% nickel
Weight: 5.67 grams
Diameter: 24.3 mm
Silver Clad Washington Quarters
Dates: 1976
Composition: 40% silver, 60% copper
Weight: 5.75 grams
Diameter: 24.3 mm
Modern Silver Proof Washington Quarters
Dates: 1992-1998
Composition: 90% silver, 10% copper
Weight: 6.25 grams
Diameter: 24.3 mm